Well, apart from the drugs involved mentioned by Eoin to keep my hand steady I do the following for NMM, Blending and faces.
First
Blending
because it's a basic requirement for the rest of the techniques. The blending what you normally see is based on the following principle. You start by mixing up different shades of colours, e.g. black to white in 8-10 shades using chaos black, codex grey, fortress grey and skull white for Silver NMM. You need to thin them by 1:4-1:10 with water or colour thinner and you should use a wet pallett (baking paper on wet tissue on a plate does the job). Then you apply layers starting with the darkest colour going up to the brightest. The important thing with blending is, that you keep the brush parallel to the gradient and move it away from the dark colour. Also you do not use the tip but the flat side of the brush. Normally you would apply a couple of layers on top of each other but leaving out a little bit more of the painted area with each step. I think the picture explains it. There is three different blendings just to show you the effect of adjusting the number of layers and the transparency (i.e. the dilution of the colours). Top is a poor blending with few layers and comparibly thick colours. Middle: Colour thinned out. bottom: Colour thinned out and more layers applied. I think you can see the improvement of the blending with each step.
In order to obtain the best result you normally use very thin colour to smooth out the gradient by applying wave like brush strokes along the intersections of two shades.
There is a bit more behind blending, but because I do not use the "ideal" blending I wouldn't go into more detail.
My approach to blending is much faster and explained in the following. But I have to point out that it's rather fake blending than real blending what I'm doing.
The basic principle behind the blending is fairly simple. Instead of applying many different layers with straight edges I apply less thinned layers and with the tip of the brush I prepare uneven intersections between the different layers. Something like this: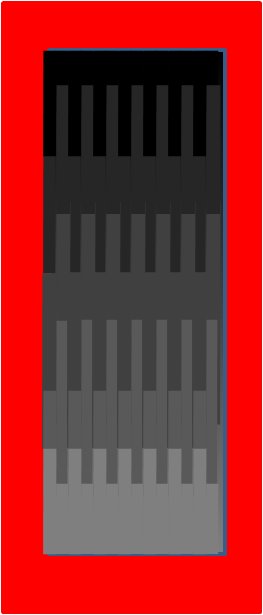 It's up to you to find the right settings (thickness of the brush strokes, dilution of the colours, amount of layers etc.) to obtain the correct effect. Normally I need only one layer of each colour to get a more or less smooth blending. Too sharp contrasts can be smoothed out by using thinner colours and paint in a wave like manner along the intersections of two colours (just like smoothing out with normal blending).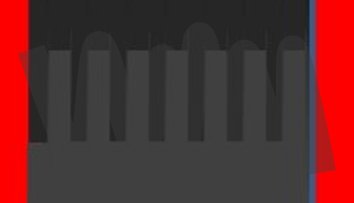 The more often you do the smoothing, the smoother the blending will be.
NMM
Things you need to bear in mind for NMM:
1. You need sharp contrasts. This is probably the most important thing with NMM. There need to be areas where the darkest colour is adjacent to the brightest colour
2. You need smooth blendings. For the most part you need a smooth blending from dark to bright. For the brightest parts one can paint on star like structures as reflections. And as described in Point 1 there need to be a sharp contrast between each of the areas.
3. Sword blades: the two sections of the blade need to be painted the other way round. E.g. dark from top to bottom on left hand side, dark from bottom to top right hand side. Additionally you need a thin line in between the two areas. See e.g. sword of Farseer in one of the first posts.
4. Generally: The brightest colour in the blending will be furthest away from the light source for any given object. You need to analyze each substructure of each object in that way.
5. On edges of an object you need a thin bright line.
For all the basic rules of NMM you can have a look at my models (and don't worry if you find any breaches with the rules, it just shows you, that I am at the beginning with this technique myself) or check the internet. In general it helps a lot to walk around with open eyes and have a look at different kinds of metal. The old masters of Art are also ideal sources for inspiration. It's also useful to have a look at different shapes and get used to the different ways light is reflected.
Anyway, moving on to the specifics of Silver and Gold NMM
Silver NMM
As explained in the Blending section, I mix up Black to White with Chaos Black, Codex Grey, Fortress Grey and Skull White (e.g. Chaos Black, 2:1 Chaos Black:Codex Grey, 1:2 Chaos Black:Codex Grey, Codex Grey and so on). There is no reason why you couldn't use different shades of grey such as Space Wolves Grey or that you could add some blue to the mixture to make your NMM more steel like. I just don't do it right now. The only thing I do sometimes is to add a little bit of red to my NMM (both silver and gold) when I paint my BA to show reflections of the red armour.
I should also mention that the silver NMM on my models (e.g. the Termis) is more a black NMM. For the real silver feeling you will need to add more grey to the blending. I just found it much more easy to paint it that way and I like the looks of it.
Gold NMM
The gold NMM is a little more complicated colour wise. Generally you can use different shades of brown and yellow for the blending. In order to get the right contrast and reflections you use chaos black and skull white to brighten up the colours for final highlights/ darkest areas.
I used three different colour combinations for my gold NMMs, examples of which are shown on the Avatar (NMM without yellows), Farseer (very regal and clean, but most complex) and the Blood Angels (that's the easiest one which is also a little dirty and it symbolizes a not totally smooth texture which I think makes sense for the primitive armour of humans).
So these are the details of this NMM (if you want mix a drop of red into each of the colours). It's fairly similar to the one in the White Dwarf with the Sanguinor, mainly because Snakbite Leather-Bleached Bone blending is kind of Standard for NMM. So I can only recommend the White Dwarf Tutorial.
1. Prime Black
2. 1:1 mix of Calthan Brown and Snakebite Leather on all parts
3. Snakebite Leather with a drop of Bleached Bone as a first blending
4-6. Mix in more bleached bone into Snake Bite Leather and blend
7. Pure Bleached Bone as a comparably thick accent on the most exposed regions
8. Get some more contrast by adding a mix of 2. with Chaos Black into the recesses/ you can as well use shades of Purple, Green or Blue
9. Use a very thin line of pure black for the regions of maximal contrast
10. Apply a thin line of white on to the Bleached Bone Accents
11. mix up a 1:10-1:15 mixture of sunburst yellow with water and apply VERY little of the colour onto the white and brown areas.
12. Apply a very thin line of white onto the most exposed areas.
13. Normally I go over the whole nmm again and adjust some blendings/ sharpen contrast/ repair stuff etc.
Faces:

For faces I use blendings of Tanned Flesh, Dwarf Flesh and Elf Flesh with a final highlight of bleached bone. The darker areas of the face get touched on with thin purple/brown/blue/red and/or black mixtures. I did that differently each time. The librarian got a stubble with black sooth weathering powder but you can use chaos black (or different colours) and dry brush them. You could also use very, very thin colour to get a stubble. I'm still at the experimental phase with faces so don't take it too serious what I'm saying.
I hope that helps a little bit. I could keep on writing about it for much longer but the best thing you can do is to pick up a brush and give it a try. If you want you can put up the pictures on the forum and I can try to give advise.
Keep on happy painting.
Burkhardt