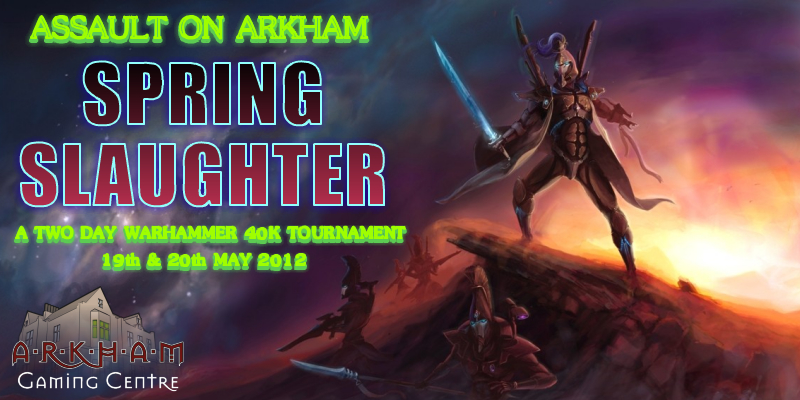 Arkham Gaming Centre is proud to host this Warhammer 40K tournament, run in conjunction with Jonny Fisher. This 2 day ranking 1850 point tournament will allow the best 40K players in Ireland North & South to make war across the tabletop.

---
Tickets cost £20, and include;
Tournament entry
Unlimited tea, coffee & bottled water
Occasional snacks
The ticket does not include lunch. Orders for lunch will be taken each morning and brought to the centre. Players can bring their own lunch and/or snacks if preferred. Soft drinks and snacks are also available to purchase at the centre.
Alcohol is permitted, but we ask that players refrain from falling over during play.
The centre opens at 9am on Sat 19/5/12, with the first game starting at 10am.
The tournament will close with a prize-giving ceremony at 6pm on Sun 20/5/12.

---
There will be spot prizes given out, as well as the following fixed prizes;
1st place: Trophy, £80 gift voucher & 1 year club membership

2nd place: £50 gift voucher & 6 month club membership

3rd place: £25 gift voucher & 6 month club membership

Best painted army: £10 gift voucher

Player's choice award for best sportsman: £10 gift voucher
http://www.eventbrite.co.uk/event/2993418395
http://w-ired.org/forum/viewtopic.php?f=5&t=2575